City of Ithaca now offering email lists to keep residents informed
As City Common Council members, Josephine Martell and I are always looking for ways to improve communications to our constituents. Ithaca's Notify Me service is a great new way.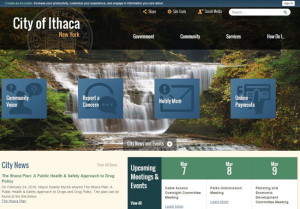 Some 5th Ward residents have expressed an interest in receiving direct, city-related communications instead of joining the Fall Creek mailing list, and Josephine and I are beginning to use the city's Notify Me service to better communicate issues relevant to the 5th Ward.
Just visit www.cityofithaca.org and click the big "Notify Me" envelope image. When you get to that page, there are a plethora of lists that you can join. Some are more active than others, but the City Clerk and the IT staff of the city have been working on putting this great infrastructure in place. People can customize the information that they want to receive by checking off the box for each list.
I requested that the City develop one for each Ward, since we had been getting requests from constituents to have a better more streamlined way to access their respective representatives. Each Ward has varying existing systems of communicating with residents, so this might be more active in some wards than others. This system will allow City Council members to send out information directly to their Wards. If anyone responds to the message, both representatives will get the email.
Right now, even though it looks like some of the lists are text message friendly, that function is not yet enabled due to current limitations from the service provider. We are looking into this being an option in the future. So you won't get texts from this service just yet — only emails.
To sign up, please visit www.cityofithaca.org and get started!
Deborah Mohlenhoff is a member of the City of Ithaca's Common Council, representing the 5th Ward.