Student responsible for gun threat at Ithaca High School arrested and released, says IPD
Ithaca police this morning identified the Ithaca High School student responsible for a gun threat that brought a police presence to the campus yesterday. 17-year-old Jacob Rollins-Young was arrested last night.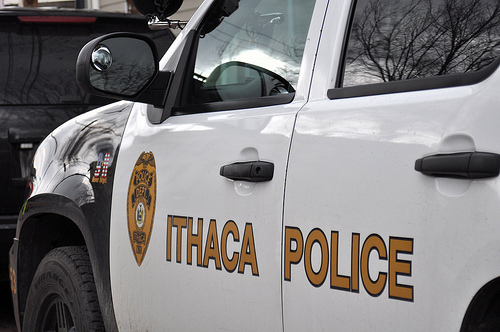 Rollins-Young was arraigned on a class D felony charge of Making a Terroristic Threat before Judge Richard M. Wallace in Ithaca City Court on Monday evening, and released to a family member.
School district officials refused to comment on the situation, but we obtained an email sent by ICSD to families of students at Ithaca High School on Sunday to alert them to the threat, which occurred when "several Ithaca High School students engaged in a conversation on Facebook."
"One student became upset and made a direct threat to another student followed by a threat of violence to the entire IHS community," said the email sent to parents. Rollins-Young had threatened "to carry out a mass shooting at the Ithaca High School," according to police.
Chief Barber told 14850 Today on Monday that the student "was identified" and is not in school this week, but officers are on the school campus "as a show of precaution" for the rest of this week.
The student is under court supervision, and is sheduled to reappear in city court on March 25.
For more, follow 14850.com on 
Facebook
 and 
Twitter
.