Renovus reaches out to area non-profits with its community solar initiative
Non-profit organizations who haven't been able to take advantage of state and federal incentives to adopt solar power have a new path, thanks to Renovus.
"Going solar hasn't been feasible for non-profits," says Renovus Solar's Emma Hewitt, but under the company's community solar initiative, organizations can band together as a collective to "attract financing in the form of a power purchase agreement (PPA)."
That's the topic of an info session scheduled for this Tuesday at the Space at GreenStar.
Hewitt  says the community solar farm model, whereby the company builds shared solar arrays on behalf of multiple owners, "has truly transformed the possibilities for who can go solar and how, eliminating one of the main barriers that have kept many people locked out from making the switch." So far, the company has been focusing on homeowners without sites ideal for solar generation, and on renters who can't add equipment to their homes. Now, the PPA approach will enable non-profits to reduce their electric costs by joining forces to purchase solar power.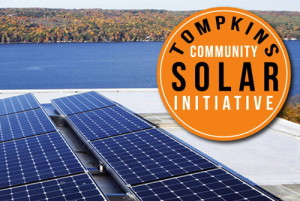 "We've had great response to our Community Solar Initiative," she says. "We've held meetings in Tompkins County, but also the wider region, going to places like Horseheads, Corning, Watkins Glen, Canandaigua, Cortland, Syracuse, and beyond."
The company welcomes representatives from all non-profit organizations in the area to Tuesday's info session, from 6-8pm at the Space at GreenStar in Ithaca's west end. Other upcoming sessions for area residents are March 22nd at Ithaca Beer, and March 26th at Rogues Harbor.
For more, follow 14850.com on 
Facebook
 and 
Twitter
.